---
News
---
Forthcoming Events
---
Recent Events
---
Racket Restring Service
The club coach, Craig Amison-Smith, offers a racket restring/regrip service. For details, click on the Restring Service button to the left.
---
Club Knockout Finals Day 2017
The club finals day was held on Saturday 16th September. The results may be found on the Club Knockout web page.
Preston Bowl, Sunday 13th August 2017
The Preston Bowl Open Mixed Doubles competition was held on the first Sunday of Open Week, see the Preston Bowl 2017 web page.
Junior Open, 14-18 August, 2017
Full details of the results of the 2017 tournaments may be found by going to the Junior Open 2017 pages.
Family Doubles, 19th August 2017
The Family Doubles competition was held on the Saturday of Open Week, see the Family Doubles 2017 web page.
Annual Club Barbecue, 23 June 7.30pm
There was a good turnout for the Annual Barbecue and a good day was had by all. Thanks to Bev and Bee for all their effort organising the event.
Veteran's Tournament, Sunday 4th June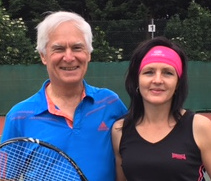 On Sunday 4th June eighteen of the less young club members (men over 45 and ladies over 40) turned out to play in the Veteran's Tournament. The weather was fine and an enjoyable afternoon's tennis was had by all.
It was a mixed doubles tournament played as a six round American tournament where partners changed each round. Unfortunately, there were nine ladies and seven men players, and Dawn Torgeresen had the disadvantage of playing as a man. Even so, she managed to win two of her rounds without dropping a game!
Unusually, this year there were clear winners for both men and ladies, so no final playoff was required. The mens winnner was Jim Eastwood and the ladies winner was Lucy Krepa (pictured to the left).
Many thanks to Craig Amison-Smith for all his efforts in organising and making the tournmament run smoothly.
---
Annual General Meeting
The committee look forward to welcoming you to the AGM to be held at the Club house on Tuedsay 27th February 2018 at 7.30. Come and be involved in voting for next year's committee. Look out for proposal forms in the clubhouse in advance. This is your chance to take part and make a difference. Drinks and nibbles.
Saturday Junior Tennis
Craig Amison-Smith runs supervised junior tennis session, 10-12am every Saturday (see the coaching page for more information). Non-members pay a visitor's fee to play.
Beginners, Returnees and Improvers Coaching Course 2018
Bev Woodcock and Craig Amison-Smith will again be running a Beginners, Returnee and Improvers coaching course for adults of all ages wishing to take up or get back into tennis playing. It will start in spring, and the start date is yet to be finalised. Coaching will run from 7.30pm to 9pm and the course is open to both members and non-member. The cost is £5 for members and £8 for non-members. If you are interested then contact Bev as soon as possible for more details (Tel: 01235 530904 oe email: bev@abingdontennisclub.com).
Coaching Group Sessions, Wednesday 4-7pm
The coaching runs every term-time Wednesday. There is coaching for players aged 5 to 10 from 4pm to 5pm, for junior players aged 11 to 16 between 5pm and 6pm and for the adult session between 6 and 7pm.
Please contact Craig at craig@abingdontennisclub.com to register your player, or ask any questions you may have.
Singles Box League
Please contact Craig at craig@abingdontennisclub.com to register your player, or ask any questions you may have.
Aegon Junior tennis
For details on the Aegon Junior tennis, see the Juniors web page.